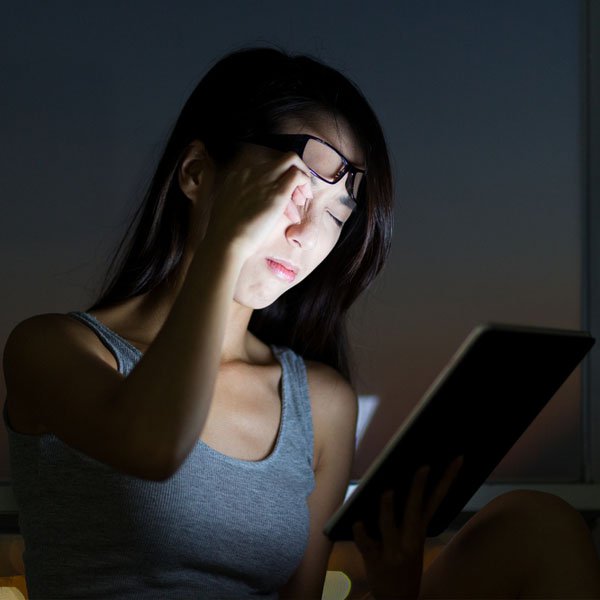 What is blue light?
Part of the visible light spectrum, blue light is the high-energy light just beyond the potentially harmful ultraviolet light.
Blue light is normally transmitted through the eye to the retina, because it is visible light that our eyes are designed to receive. Light is visible to the eye and triggers the visual process that leads to vision and sight.
A large body of experimental and clinical evidence over 20-30 years shows that UV light can be harmful to the eye and contribute to diseases such as cataracts, pterygia or growths on the front of the eye, and perhaps macular degeneration. Most glasses and sunglass lenses and many contact lenses have been developed to block out UV light.
Digital devices such as TV screens, computer monitors, mobile phones and tablets emit significant levels of blue light. The higher levels of blue light place more strain on the eye's focusing system than do printed materials.
Is blue light harmful to the eyes?
Digital eyestrain refers to blurred vision and other symptoms such as burning, stinging or tearing of the eyes associated with prolonged use of digital devices. Digital eyestrain leads to dry eyes and puts strain on the muscles that help the eye focus. When staring at a digital device, the eye does not blink as frequently, and this causes faster disruption and evaporation of the tear film that protects the ocular surface. When the surface of the eye begins to dry, irritation is felt, such as burning and stinging.
When viewing digital devices, the eyes are looking at images that are rapidly alternating or flickering multiple times per second. It is much harder for the visual system to maintain a sharp or consistent focus on an electronic image compared to a hard image.
For people who spend significant hours on a computer or other digital device, there are now lenses that can block out the blue light which may provide some relief and comfort.
To further maintain comfortable vision while using digital devices, it is important to use the 20/20/20 rule. For every 20 minutes of digital device use, look away for 20 seconds focusing on something 20 feet away. Using artificial tear or lubricant drops may also relieve some symptoms of dryness.
Macular degeneration and other eye diseases in relation to blue light is the great unknown. The main risk factors for these eye diseases are age, genetic factors, UV light, smoking and poor nutrition more than digital device use.
Benefits of blue light
One of the physiological benefits of visual light, specifically blue light, is the relationship with our internal circadian clock. As part of the sleep/wake cycle, blue light triggers the suppression of melatonin in the brain, keeping us awake. This tells us when we are tired or should be awake.
We are not designed to be using our phones and tablets 6 inches from our faces especially while lying in bed with the television on, supresses the melatonin, making it more difficult for a good night's rest.
It is advised to turn off electronic devices one to two hours before going to bed to trigger the release of melatonin, giving it a chance to increase just before going to sleep.